Using our powdered wax or coloured powdered with our container wicks is the easiest way to create an instant candle.
You will need:-
i)   A suitable container.  It must be non combustable, either glass or metal.  Make sure if using a glass that it is at least 7cm in diameter.
It is very important that the candle flame does not touch the glass as the glass will shatter if the flame touches it, so do not use a container that curves in at the top.
ii)   Container wicks.       Container wicks are ready primed (that is that they have been dipped in wax so they are stiff) and fixed to a small metal disc, known as the sustainer.


iii) The wax.   The CANDLE SAND comes in three different types. Either our 2 kilos bags of wax and stearin mix, our five kilo bag of wax pellets of our jars of coloured or scented candle sand.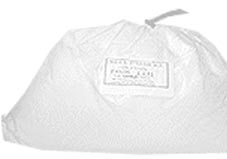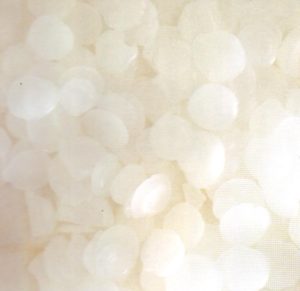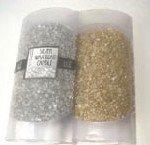 Ok so now you have everthing you need together!  Time to make your candle
1).  Place the wick and sustainer in the middle of the container.  Either support it with a toothpick or pencil, or  use a piece of cardboard with a hole in the center.

3. Pour the wax granuals around the wick.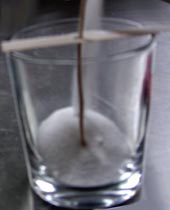 4. When you have finished filling the glass cut the wick.   Shake it gently to even out the granuels.   Your candle is now ready.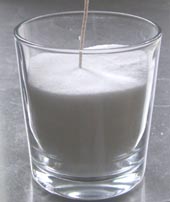 5. Light your candle.  Burn it for at least 3-4 hours depending on the diameter of your container and the molten wax will seal the wax in.
Of course you do not have to use a glass.  You can adapt this idea for filling silver bowls as centerpieces for wedding tables.  Using several wicks is another great idea.   It is a really economical and pretty way to make your own candles!