Oil burners went out of fashion for a while, but seem to be regaining their popularity.    We are really pleased, as they are great not only for diffusing scented oils but also for gently melting scented wax melts.  We are having a grand SALE of oil burners at the moment and several models are available at only £2,00 each!!  Some of them are on the site at 75% off!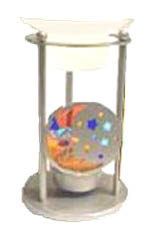 Use with scented or essential oils.
Pour a little water into the oil burner and drip a few drops of your oil on the water.   Place a tea light under the oil burner and the water and oil will vapourise and fill your room with delicious scent.   Choose a scent you love, lavender for relaxation, chamomile to calm you, but of course scent is very evocative and personal so what scent you love best will depend on you!
Use with wax melts or candle tarts.
Place the wax melt, also known as a wax tart, in the top of the oil burner.   Put a T light in the
base and light it.  The heat from the T light will gently melt the wax and release the scent into your room.   To clean the oil burner after use I recommend putting it in the fridge and the wax should then just fall out when it is really cold.
Using Oil Burners Safely
Never leave a burning candle unattended.  Only using a 4-5 hour T light, as a larger T light may not have enough room to burn safley. This will depend on the size of your oil burner and how much air can get to the candle.
So take advantage of our amazing offers and infuse your house with wonderful scents!