The easiest, quickest way to fill your room with wonderful fragrance.   Basically they work like scented candles without a wick!   They melt fast in oil burners and the scent is diffused quicker then when using candles.  You can vary the strength of the scent by the amount you choose to put in.  Prettilly packaged they make a  wonderful gift. This step by step guide will teach you how to make small white hearts.  Ideal packed in a small box for organza bag for wedding favours!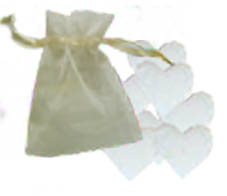 So you will need:-
1. A rubber heart ice mould ( bun tins work well also).
2. A cooking thermometer
3. A double saucepan or bowl over a saucepan to melt the wax in.
4. A metal jug to pour in the wax.
5. Wax and stearin mix (put in 10% extra stearin if you want them extra white).
6. Candle perfume.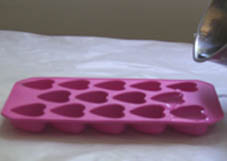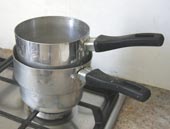 Making the Wax Melts
1.Melt about 200 gms of  of wax and stearin mix in a double saucepan or in a metal bowl over a saucepan of hot water. Heat to 180F.
2. Add a few drops of camdle perfume.Stir gently.
2. Ladel the moten waxwax from into your jug.
3. Fill the wax hearts.
4. Wait for them to set, and then simply pop them of of their mould.
About Wax Melts
Candle manufactures invented was melts, also known as wax tarts.   Place them in oil burners  light a 4-5 hour Tea light and their perfume will quickly infuse your room.  They are very safe to use and safer than using oil and water in a wax burner.
Make wax melts from your left over scented candle ends.  I am shortly going to write a blog about how to easily remove old wax from scented candle glasses – such a shame to throw that wonderfully scented wax away!