If you have been careless with your candles and not yet read our guide to candle burning, you may be left with stains on either your clothing, tablecloths or carpets or wooden flooring.   Do not despair!  It is usually possible to completely remove the wax.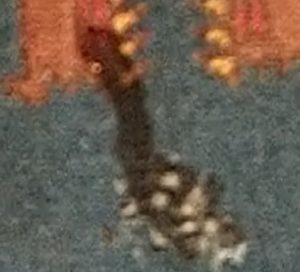 1.  Let the wax cool.  If possible put your clothing in the fridge, if it is on a carpet do not touch it until it is absolutely cold.  If it is a carpet or wooden floor a bag of ice cubes or frozden peas on the stain first will help!
2. If it is on wooden flooring it may work to wipe the wax off with a cloth dampened with rubbing alcohol (test a small area first in case it affects the wood varnish).   If not proceed as if it is a carpet, making sure you never leave the iron on the surface long enough to burn the wood.
Scrape off all the wax you can.It helps if it is on material or scrunch it up in your hand and then prise all the wax you can see off. If it is on a carpet gently scrape off the excess wax with a knife (or plastic spatula if the spillage is on a wooden floor).


4. Iron out the wax remaining.  Do this buy using either paper towel or blotting paper.  Place several layers of paper towel underneath the material. (of course you cannot do this if it is a carpet).  Then place paper towel over the wax and iron the wax stain.  The wax will be drawn up into the tissue and
you will have to do it several times, replaying the paper towel as you go, before the wax has completely removed.  Keep going until there is no more wax left on your paper towel.

5. Depending on the colour of the wax you now may or may not be left with a residual stain of the dye used in making the candle.  If on material most stain removers should get it off, then wash as normal.  If on white material you can use diluted bleach to help it on its way.  If on a carpet you will have to try a carpet stain remover, which may work. No guarantees.